Meet Our Doctor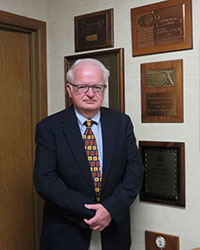 Dr. Joe Allen Chambers was born in Rogersville, TN in 1946. He attended Tennessee Wesleyan College, Univ. of Tennessee and graduated from Southern College of Optometry in 1970. He was elected to the Gold Key Honor Society and Who's Who in American Colleges and Universities while attending Southern College.
Entering the US Army in 1970, Dr. Chambers served on active duty until 1973. He served as Chief of Optometry at Bassett Army Hospital in Fairbanks, Alaska and was awarded several medals including the Army Commendation Medal.
Practicing in South Carolina for a short time, Dr. Chambers returned home to Tennessee in 1974. While practicing in Erwin, he has been a member of Erwin Jaycees and was awarded Jaycee Distinguished Service Award and Jaycee of Year. He was also Erwin Kiwanian of the year in 1984. Dr. Chambers served on Unicoi County School Board from 1981-1982 and was elected to Unicoi County Court and served from 1982-1986. He served on Unicoi County Election Commission for 18 years and the Erwin Federal Housing Board for two terms. He also served as a member of Unicoi County Board of Health, Toney Library Board and is currently Foreman of the Grand Jury for Unicoi County. Dr. Chambers is an Elder in Erwin Presbyterian Church.
In 1968, Dr. Chambers married Darlene Moore Chambers. Their children are Susan Chambers and son Nic of Erwin, Mary Ann Reno and husband Bill, daughters Mary Elizabeth and Sarah Grace of Anderson, SC and Joe Chambers, III and wife Elizabeth Lamb and their daughter Jessica Ann of Fairview, TN
Dr. Chambers is retired as a LTC from the U.S. Air Force. While in the Air Force/Air National Guard, he was awarded the Air Force Commendation and Meritorious Service Medals. He served as President of the Air National Guard Optometric Society and was Optometrist of the Year for Air National Guard in 1983.
Dr. Chambers has served Optometry in Tennessee as a member of Tennessee Board of Examiners. He served ten years and as President for five years. He also served as a clinical examiner on the National Board of Examiners in Optometry. He was awarded Tennessee Optometrist of the Year in 1991 and continues to be active in Tennessee Optometric issues.